Pensiunea Veselia la Romani Botiza Maramureș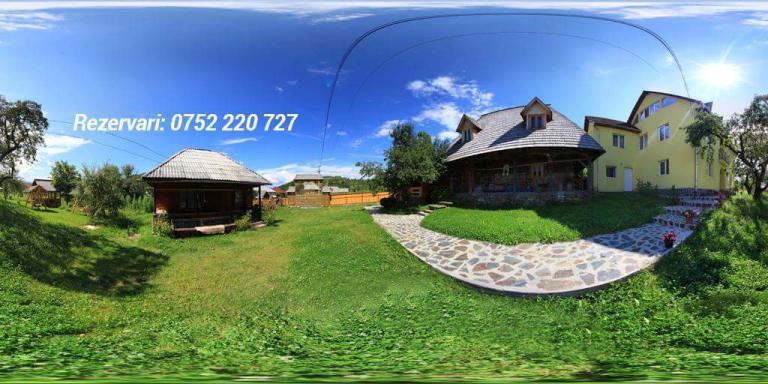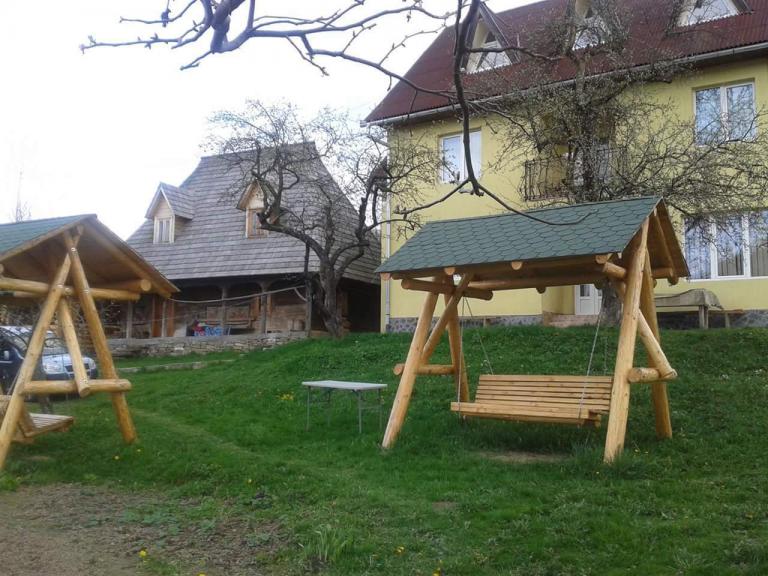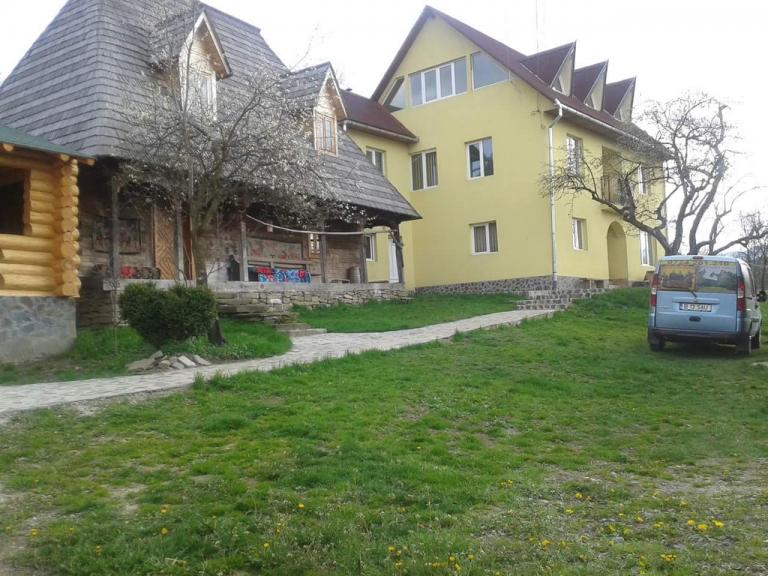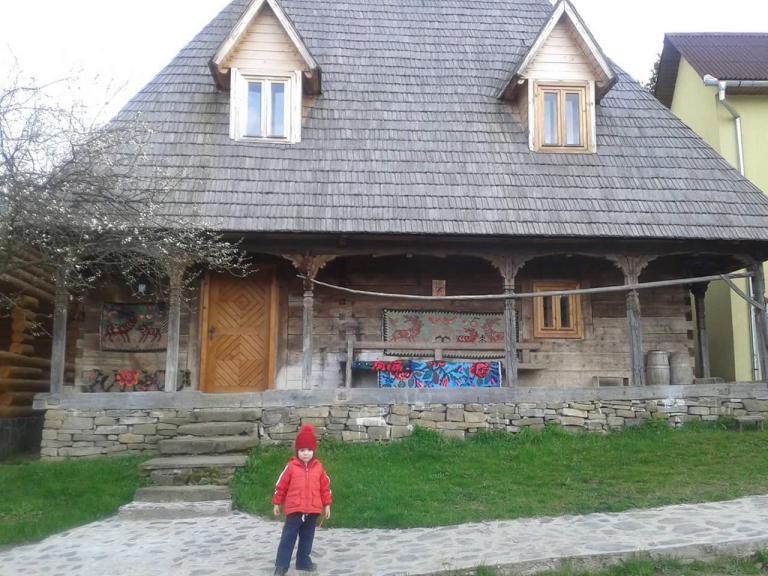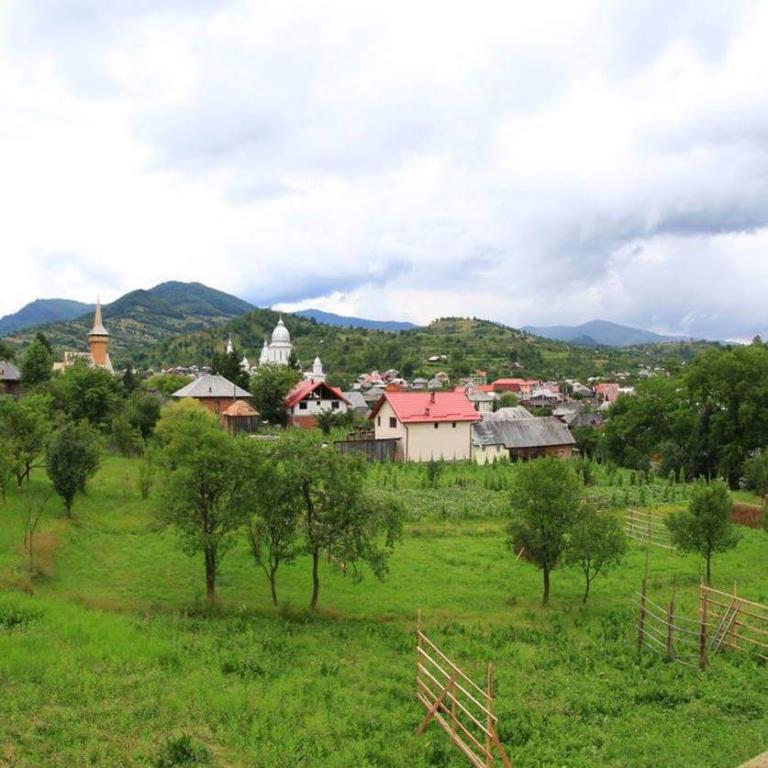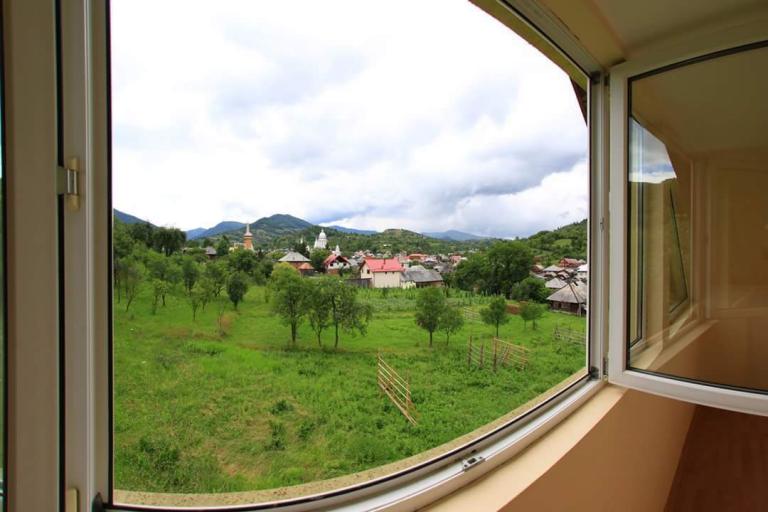 Descriere Proprietate:
Botiza - Pensiunea Veselia - Pensiunea Veselia din Botiza, Judetul Maramures este situata intr-un cadru magnific intr-o livada mare cu pomi fructiferi verdeata, flori si mult aer curat. Pensiunea noastra este locul perfect pentru relaxare totala deoarece veti petrece un sejur in liniste, fara vecini in apropiere intr-un cadru cu un peisaj deosebit de frumos, livada fiind situata deasupra satului iar drumul de acces fiind asfaltat de noi. Pentru a oferi tot confortul unei zone de relaxare in curte avem instalate doua leagane mari din lemn rustice alcatuite din lemn masiv. Pentru a pastra traditiile rustice maramuresene accesul in pensiune se face printr-o poarta sculptata din lemn masiv. Pensiunea Veselia are in componenta trei corpuri de casa si doua terase mari din lemn, gratar acoperit, balansoare (leagane) mari situate in curte. 1.Casa Moderna va pune la dispozitie sapte dormitoare din care un dormitor cu baie proprie si 6 dormitoare cu doua bai pe hol. Tot in casa noua mai avem un salon mare pentru servit masa cu bucatarie doata modern capacitatea acestuia fiind de 25 de persoane. Casa are 3 balcoane mari din care puteti admira privelistea zonei. 2.Casa Rustica are in alcatuirea sa trei dormitoare fiecare cu baie proprie, mobilierul este rustic, Salon pentru servit masa cu o capacitate de 10 persoane iar bucataria detine toate utilitatile. 3.Casa Muzeu - Va pune la dispozitie o camera in stil rustic si bucatarie complet utilata. Turistii cazati in cadrul pensiunilor noastre vor avea acces la gratarul mare situat in curte care este dotat cu plita, gratar si cuptor. 4.Terasa mare rustica din lemn masiv acoperita se poate folosi ca si loc pentru servit masa avand o capacitate de 60 de locuri, in prealabil se poate folosi si ca Sala De Sedinte, Conferinte,Petreceri sau Loc de Studiu pentru copii aflati in tabere. 5.Terasa mica din lemn masiv se poate folosi ca loc pentru relaxare, masa agrement. Toate camerele din pensiune dispunde televizor si cablu TV. Preturile pentru cazare sunt urmatoarele: - 50 lei persoana/noapte; - 70 lei persoana/noapte cu mic dejun; - 110 lei persoana/noapte cu demipensiune. Pentru  Sarbatori,Craciun,Revelion pretul este 160 lei/persoana/noapte demipensiune, iar masa festiva 150 lei/persoana. Pentru grupurile organizate putem oferi pensiune completa si promagrame artistice realizate impreuna cu ceterasi si dansatori din Botiza. Pentru diverse sarbatori cum ar fi Craciunul, Revelionul,Pastele, etc. Se pot organiza programe traditionale deosebite cum ar fi: - Taiatul porcului; - Seara moroseneasca; - Petreceri cu foc de tabara; - Excursii in zona. Meniul pentru acest gen de activitati fiind unul traditional morosenesc (la alegere). Avand in vedere ca pensiunea noastra este situata la poalele muntilor Tibles veti avea placerea sa vedeti si raul Botiza ce se varsa in IZA. Totodata puteti vizita urmatoarele atractii autohtone: 1. Manastirea "Schimbarea La Fata" 2. Bisericile din comuna cea veche (din lemn) si cea noua aflate in apropierea Pensiunii Veselia. 3. Izvoarele de apa minerala (Borcut); 4. Izvorul de apa sarata. 5. Muzeul Primariei Botiza (situat vis-a-vis de primarie); 6. Se pot face excursii la padure in muntii din aprpiere (Varatec, Gargoietu, Trecatoarea spre Grosii Tiblesului). Nu in ultimul rand puteti vizita si locuri minunate din Maramures cum ar fi: 1. Manastirea Barsana - 20 km; 2. Cimitirul Vesel de la Sapanta - 60 km; 3. Muzeul Satului ( Siget ) - 45 km 4. Muzeul inchisorii comuniste (Siget ) - 45 km 5. Statiunea balneoclimaterica Ocna Sugatag - 30 km; 6. Mocanita din Valea Vaserului - 30 km; 7. Cascada Cailor (Borsa) - 60 km; 8. Partia de schi Borsa - 60 km; 9. Partia de schi Cavnic - 70 km.
About Your Property:
Botiza - Pension Joy - Joy Guest House in Botiza, Maramures County is situated in a magnificent setting in a large orchard with fruit trees, herbs, flowers and fresh air. Our pension is the perfect place for total relaxation because you will spend a quiet, no neighbors near a frame with a landscape beautiful orchard is situated above the village and the access road being paved for us. To provide all the comforts of seating areas in the garden we installed two large wooden swings made of rustic wood. To keep the rustic traditions of Maramures access to the hostel through a gate carved from solid wood. Pension Joy is composed of three bodies house and two large wooden terraces, covered barbecue, swings (swings) located high in the yard. 1. Casa Moderna offers seven bedrooms of which one bedroom with bathroom and 6 bedrooms with two bathrooms down the hall. Also in the new house we have a large lounge dining with modern kitchen equiped its capacity is 25 people. The house has three large balconies from which you can admire the area. 2. Casa Rustica is in composition to three bedrooms each with private bathroom, furniture is rustic dining salon with a capacity of 10 people and the kitchen has all utilities. 3. House Museum - will provide a rustic room and kitchen. Tourists staying in the hostels will have access to our large grill located in the courtyard which is equipped with hob, grill and oven. 4. Large terrace covered rustic wood can be used as a dining room with a capacity of 60 seats, in advance can also be used as a meeting room, conferences, parties or study place for children in camps. 5. Solid wood small terrace can be used as a place for relaxation, leisure table. All rooms in the guesthouse dispose TV and cable TV. Prices for accommodation are the following: - 50 lei / night; - 70 lei / night with breakfast; - 110 lei / night with breakfast. For the Holidays, Christmas, the price is 160 lei / person / night half board and festive meal 150 lei / person. For organized groups we offer full board and artistic promagrame made with ceterasi and dancers from Botiza. For various celebrations such as Christmas, New Year, Easter, etc. We organize special traditional programs such as: - Pig slaughter; - Evening moroseneasca; - Parties with campfire; - Excursions in the area. The menu for this kind of activities morosenesc traditional one (choice). Given that our house is situated in the foothills Tibles will have the pleasure to see and Botiza river flowing into IZA. Also you can visit these local attractions: 1. Monastery "Transfiguration" 2. The churches of the old town (wood) and the new Pension situated near Joy. 3. The sources of mineral water (Borcut); 4. Spring saltwater. 5. Botiza Hall Museum (located across the street from City Hall); 6. You can make excursions to the forest in the mountains even get close (Varatec, Gargoietu, Pass towards Grosii Tiblesului). Last but not least you can visit the great places in Maramures such as: 1. Barsana Monastery - 20 km; 2. Merry Cemetery in Sapanta - 60 km; 3. Village Museum (Siget) - 45 km 4. Museum communist prison (Siget) - 45 km Ocna Sugatag 5. The resort - 30 km; 6. Mocanita the Vaser Valley - 30 km; 7. Horse Falls (Borsa) - 60 km; 8. Borsa ski slope - 60 km; 9. Cavnic ski slope - 70 km.
Botiza, Maramureș, România
Ascunde numereleAfişează numereleHide numbersShow numbers