About Us
Welcome to RomaniaTonight.ro!
RomaniaTonight.ro is a traveling portal dedicated exclusively to the Tourism and Leisure industry from Romania which promotes Accommodation Units and Locations. Although we host properties only from Romania, they are promoted internationally reaching at the moment a global presence. The countries from where RomaniaTonight.ro is accessed and visited are shown in blue on the map below.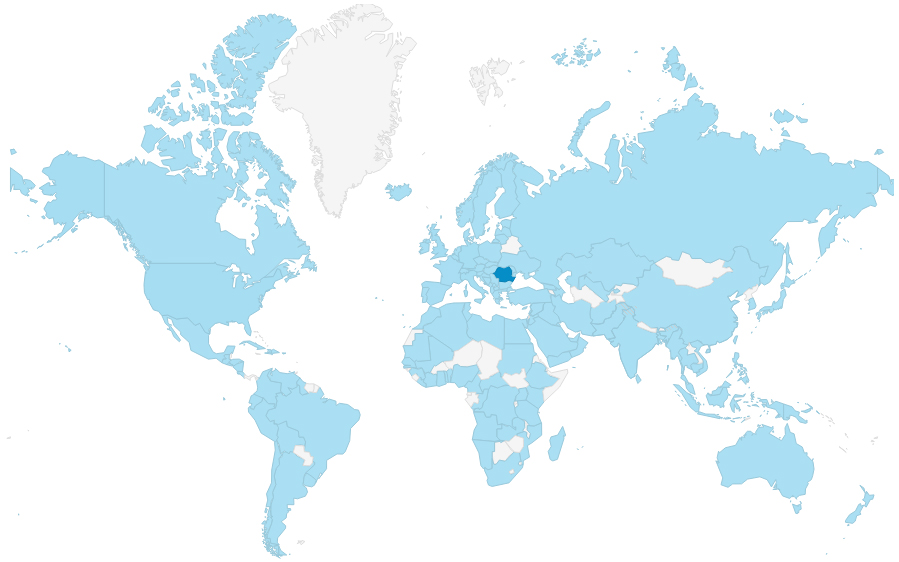 RomaniaTonight.ro in Figures
Here are some relevant figures about RomaniaTonight.ro in order to have an overview of the success that the website has. We refer to our presence in Social Media, the number of Properties currently hosted and the impact of our posts on Facebook.

11.3K+
Number of likes on our
Facebook page which is a reliable source of information for visitors and a source of inspiration for our campaigns.
1.4K+

We currently host over 1.350
properties in Romania, both Accommodations and Locations designed to meet the leisure needs of the guests.
109K+

The impact of our last campaign
"Super Mega New Year 2017"
where over 109,000 people have viewed and interacted with us in Social Media.
Who we are
RomaniaTonight.ro is powered by SC KEY FRAMES MEDIA SRL, located on the 1 Dimitrie Cantemir Blvd., Sector 4, Bucharest, registered at the Romanian Trade Registry with J40/15838/12.24.2013, unique registration code 32619804, with the account at Transilvania Bank RO32BTRLRONCRT0240632801.
RomaniaTonight.ro project is at the same time a traveling portal where you can book accommodation and a leisure guide. On our website, users can find the best price deals because the offers are added directly by the owners without applying any commission. Here can be found a complete guide of locations where guests can spend their free time in areas where they booked their vacation, we host from restaurants, cafes, clubs to tourist attractions, ski facilities and the latest events.

The project is 100% Romanian financed from domestic sources designed to support the Accommodation Units from Romania in the process of improving their image online. Accordingly, we launched WebsiteTONIGHT, a service whereby we offer to any Accommodation Unit a website developed at the highest standards, both graphically and technologically, based on the latest adaptive technology geared towards all types of intelligent devices that we use. In a few words, WebsiteTONIGHT is a flexible product that does not require programming knowledge, simplify content management and real-time information updates without consulting a specialist and the most important, it can be on-line within 24 hours.