Website Tonight
What is WebsiteTONIGHT?
Driven by our partners need to align their virtual presence to the highest standards, both graphically and technologically, we developed for you a platform based on the latest adaptive technology geared towards all types of smart devices we use everyday. In a few words, WebsiteTONIGHT is a flexible product that does not require programming knowledge, simplify content management and real-time information updates without consulting a specialist, does not require an unsustainable budget and the most important, it can be on-line within 24 hours.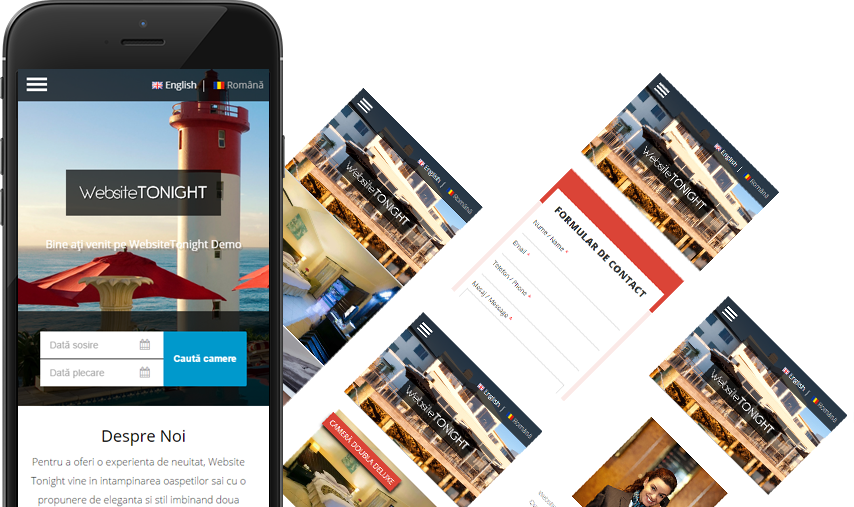 Some advantages!
With WebsiteTONIGHT service designed and developed by RomaniaTonight.ro IT team, your property website can be ready in less than 24 hours. We acknowledge the importance of the time factor in business and the fact that online presence has become an indispensable part of the process of development. With WebsiteTONIGHT you can meet the customers from the internet the very next day!
Website Responsive. The site uses a technology that enables it to adapt specifically for PC, laptop, tablet, smartphone or any screen size from which is viewed.

Content Management System. The site will have a simple and friendly administration panel that you can access at any time to edit or add text, offers, images etc..

Sustainability and Security. Your site uses a next-generation data protection system and will be continuously monitored by specialists trained in server management data.

Online Reservation System. The site integrates with the RomaniaTonight.ro database. You can make an unlimited number of searches and, most importantly, unlike other services that charge 10-20% of the total cost of the reservation, use of online reservation system on RomaniaTonight.ro is FREE.

Multi-language support (Romanian and English). Since tourism products knows no borders it is essential that you send the message to a larger number of potential visitors.

Social Media Integration (Facebook). Today social networks have a huge number of users. We encourage business presence on as many social networks and groups possible..

SEO on Page. Search Engine Optimization is the process of structuring the content and information on the web so that they can help the website to be more visible on the major search engines like Google, Yahoo, Bing, Search etc.
Key Insights
Functionality, adaptive design, intuitive architecture, and attention to the user interaction (UX) are only a few key points that bring benefit to a business website. The online environment is growing and the success of an organization depends increasingly on it.
Content Strategy The main objective was to build
a platform able to manage a number of different types of content and facilitate user access to all sections.
Design More than 50% of all online sales are made
on smartphone or tablet so we approached
a full responsive design .
integration

Another objective was
the integration with an Online Reservation System. Searches are completely free at RomaniaTonight.ro.
And yet!
Do not just take our word for it! You can test it right now and see for yourself. Do not hesitate to try it on your computer, laptop, tablet or yout mobile device.